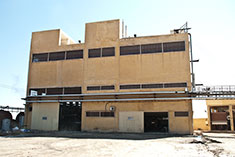 Bawadekji Tex is a Syrian family business specialized in textiles, established in 1934. We started as an underwear manufacturer, and since we expanded to include in the present day complete lines for textile knitting, dyeing, finishing and confections with premises of 3 buildings and 800 employees
History
in July 1934 Bawadekji family had opened the first workshop for the production of underwear sold in the local markets.
1954,Is the first year when the first step of the vertical company, with the acquiring of the first knitting machine and start the production of weft knitting.
1960 ,Bawadekji tex. Company had kept expanding in kitting where more circular knitting machines were added.
In 1972, Bawadekji Tex started focusing on the export market, for its garment production to USSR.
1984, complete dyeing and finishing production lines were added enabling us to produce from yarn to ready-to-wear garments products under one roof.
1987 was another important year as our export market shifted to Western Europe and North America.
2000 Bawadekji Tex added a new section to the existing facilities, by adding a new embroidery machine, and a laser engraving machine to its confection section.
2010 We extended our dye house capacity by adding dyeing machines along with finishing machines for open width fabric
We are continuously expanding by keeping a close eye on new technologies that we can add to our production line. So to be able to better adhere to our client needs of quality and production.
With almost 70 years of experience, controlling each stage of production, following social compliance as per international standards (BSCI), Bawadekji Tex was able to achieve a well-known and trustworthy reputation.